Counter Strike
Counter-Strike is a first-person shooter in which players join either the terrorist or counter-terrorist team. Each team attempts to complete their mission objective and/or eliminate the opposing team. Each round starts with the two teams spawning simultaneously, usually at opposite ends of the map from each other. A player can choose to play as one of eight different default character models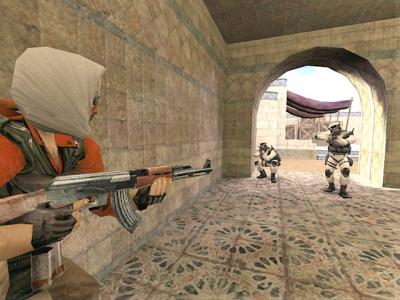 Players are generally given a few seconds before the round begins to prepare and buy equipment, during which they cannot attack or walk/move. They can return to the buy area within a set amount of time to buy more equipment. Once the round has ended, surviving players retain their equipment for use in the next round; players who were killed begin the next round with the basic default starting equipment.
The scoreboard displays team scores in addition to statistics for each player: name, kills, deaths, and ping. The scoreboard also indicates whether a player is dead, carrying the bomb (on bomb maps), or is the VIP (on assassination maps), although information on players on the opposing team is hidden from a player until his/her death, as this information can be important.
Still, despite its weaknesses, Counter-Strike is undeniably influential, and has already helped inspire countless similar mods and games. It's easy to see why: Counter-Strike has a simple yet effective design that's brought to life with superior maps and vivid graphics and sound. The end result is utterly exciting and addictive. Counter-Strike is a model of its kind and a thrilling action game.