Will space elevators ever be more than science fiction? Our space columnist meets the man who hopes to do away with dangerous and expensive rockets forever.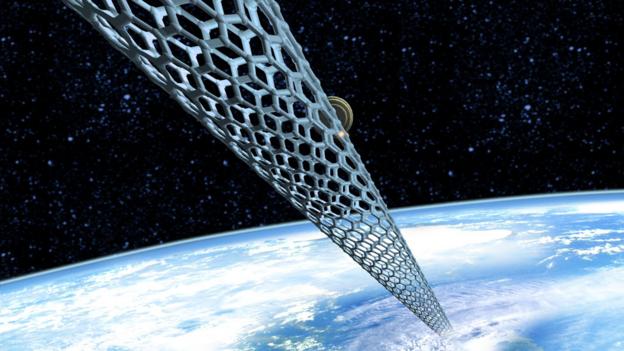 Futuristic engineering feats consist of a cable – also known as a ribbon or tether - of material stretching from the Earth's surface into orbit. An anchor and Earth's gravity at the lower end, and a counterweight and centrifugal force at the top end keep the elevator's "cable" taut and stationary over ground station. Robotic 'climbers' would then pull themselves up the ribbon from the surface, through the stratosphere and out into space, potentially powered by lasers. The climbers could carry satellites up and bring minerals from the moon, or asteroids, back. They could take tourists into orbit or convey astronauts on the first part of their journey to the stars. No longer would space exploration be held back by gravity or rely on smelly, dangerous and expensive rockets.

"You could take a ride for the cost of a first class airline ticket," exclaims David Horn, the Conferences Chair of the International Space Elevator Consortium (ISEC). Estimates suggest that the cost of sending cargo into space could plummet to around $100 per kilogram. "A primary school could have a bake sale to cover the costs of sending a class science experiment into space." Or, by selling enough cakes, even the entire class.

ISEC has been organising space elevator conferences for the past ten years – the latest will be held in Seattle later this month. They are attended by scientists, engineers and students from around the world, including those from various national space agencies like Nasa. There are also annual conferences in Europe and Japan and technical papers on various aspects of space elevators are published every year.

READ more/Full article/source - http://www.bbc.com/future/story/20120817-space-elevators-going-up